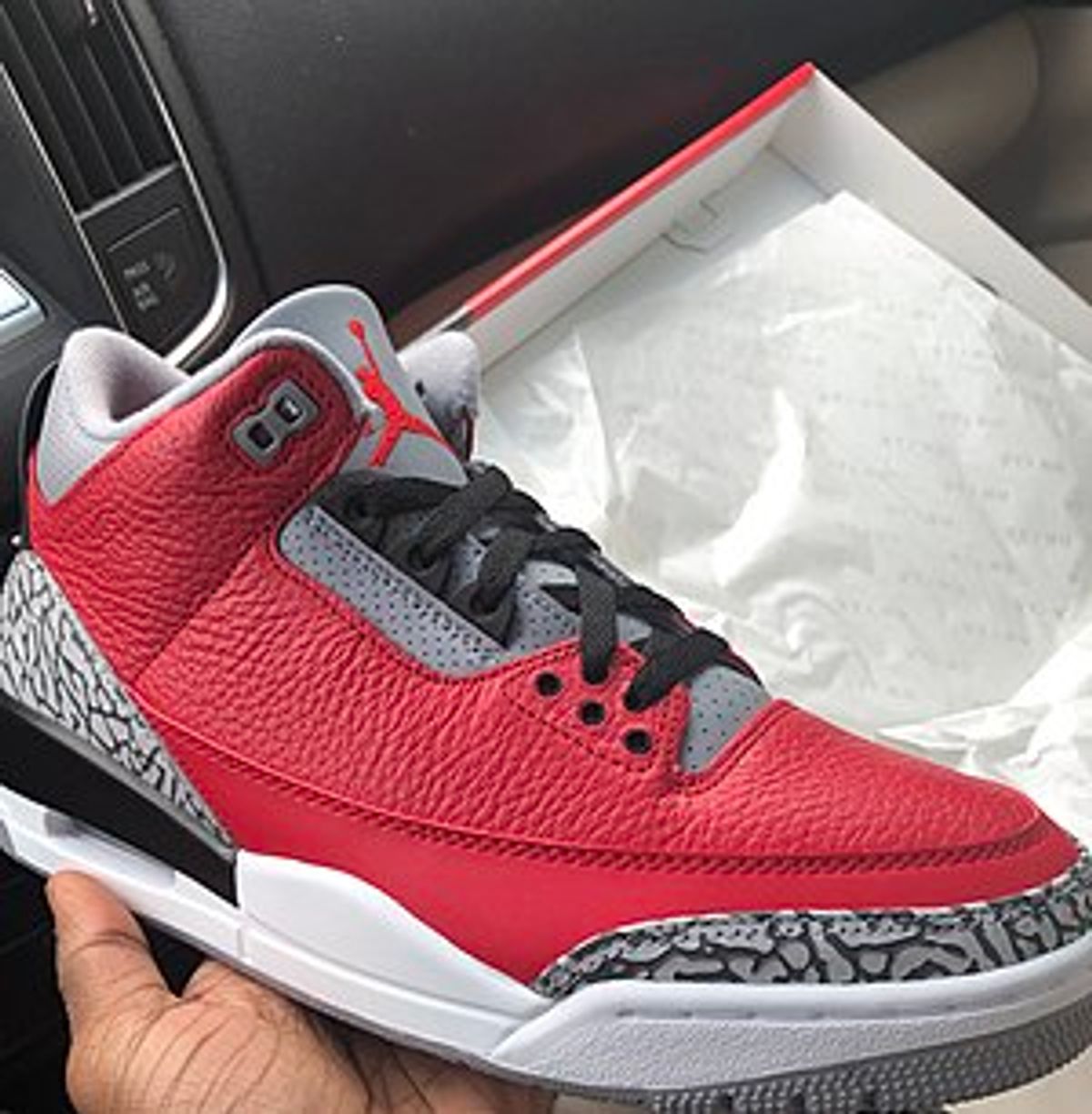 The Air Jordan III was designed by Tinker Hatfield who works for Nike as a designer for stores and offices. By that time Michael Jordan was ready to leave Nike, but the Jordan III changed his mind. It was the first Air Jordan to feature a visible air unit on the heel, the new Jumpman logo, an elephant print trim and tumbled leather to give it a luxury look. The Air Jordan III was also famous for the humorous ads depicting film director Spike Lee as Mars Blackmon, the character he played in his film She's Gotta Have It. This campaign was known as "Mars and Mike", which was one of Nike's most successful advertisement campaigns. These were the first Jordans to feature the "NIKE AIR" logo on the back. These were said to be Michael Jordan's favorite shoes, he wore them during the 1988 NBA Slam Dunk Contest and many other events in his basketball career. The Air Jordan III's had poor sales when first reintroduced in 1994. On their second reintroduction in 2001, they sold well.
In 2007, Jordan Brand collaborated with director Spike Lee to release a limited pair of Air Jordan IIIs with a colorway based on the blue-yellow poster for Lee's film Do the Right Thing.
In 2009, the Jordan Brand reintroduced the highly sought after Air Jordan III in the True Blue colorway. It was an international-only release, meaning they were not sold in the US. In 2011, the brand released a Black History Month (BHM) Air Jordan III colorway in commemoration of the 35th anniversary of Black History Month. Also, the same year saw the release of the "True Blue" III on June 4. The Stealth colorway of the III was released in September and the Black Cements were released in November.[5] The "Black Flips" were released on December 3, 2011. In 2013, Jordan released a special edition of the Jordan III this shoe was deemed the Air Jordan III "Retro '88" White Cement and were released in February.
On February 15th, 2020, the most recent version of the shoe Air Jordan 3 SE "Red Cement" was released in celebration of Chicago, Illinois hosting the 2020 Nba All-Star Game. The brand also debuted a Chicago-exclusive version of the colorway. This pair features "Nike Chi" branding on the heel, replacing the traditional "Nike Air" branding.[6] Multiple retros and new colorways have been released in 1994, 2001, 2007, 2009, 2011, 2013, 2014, and 2016–2020
Source:
https://en.wikipedia.org/wiki/Air_Jordan
https://www.sallyhouseoffashion.com/collections/sneakers/nike