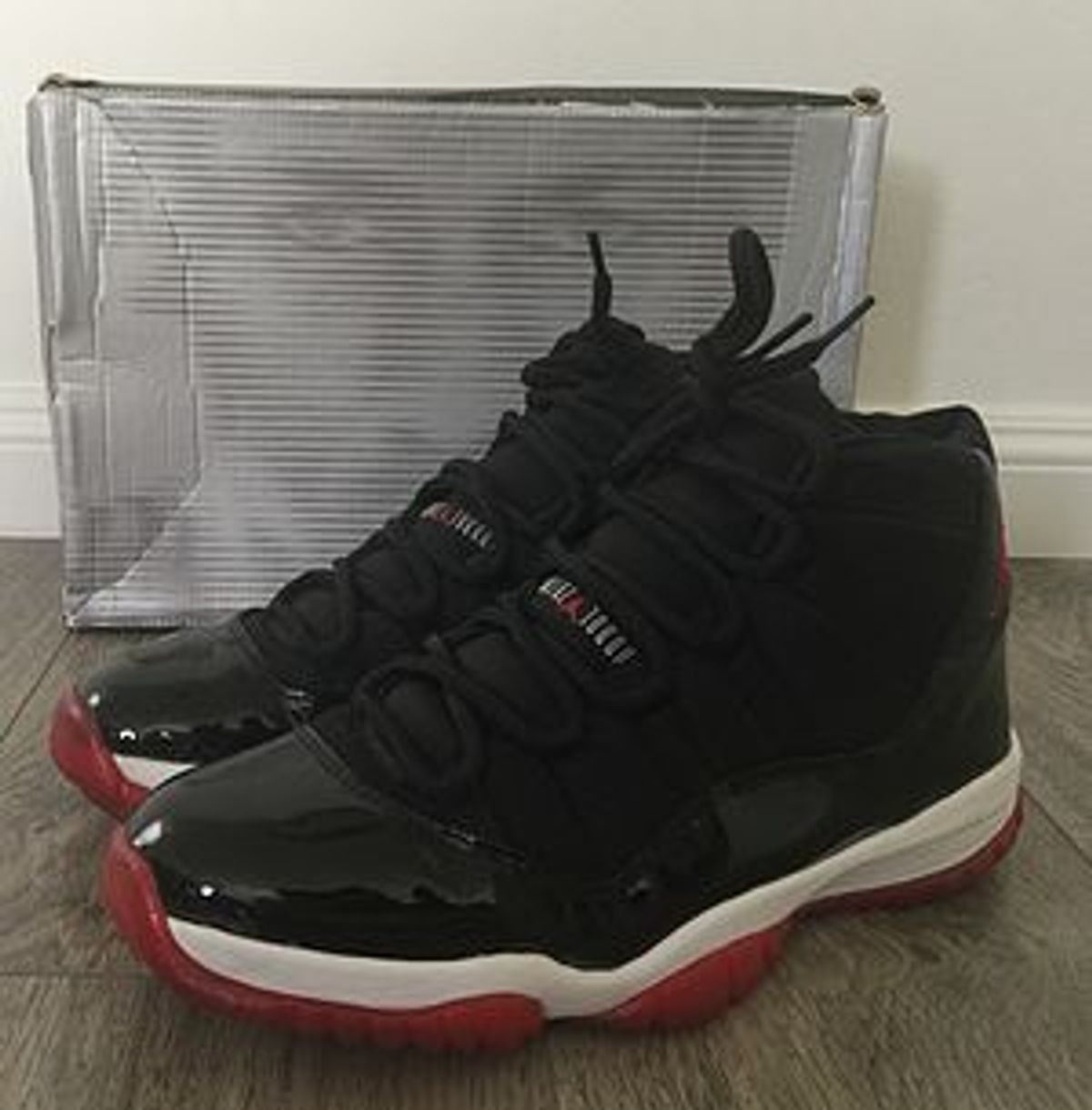 This model was designed by Tinker Hatfield. When the shoe launched, Michael Jordan (retired from basketball by then) was with the Birmingham Barons in baseball's minor baseball leagues. Hatfield designed the sneaker waiting for Jordan to come back and hoping he would play in them.
The ballistic mesh upper of the sneaker was meant to make the Air Jordan XI lighter and more durable than past sneakers. Further changes came with the use of a carbon fiber spring plate in the translucent "frosty" outsole, giving the shoe better torque when twisting on the court. The highlight and arguably best-known aspect of the shoe is its patent leather mudguard. Patent leather was lightweight compared to genuine leather and also tended not to stretch as much – a property to help keep the foot within the bounds of the foot bed during directional changes on the court. The patent leather gave the XI a "formal" look. When this shoe released, some wore this model with business suits instead of dress shoes.
The sneakers were only samples in 1995 when Jordan decided to come back to the NBA. Hatfield and Nike discouraged Jordan from playing in them, but once they were produced, he couldn't resist. Also noteworthy, Jordan violated league dress code by wearing the shoes, as his teammates wore all-black shoes. It wasn't the first time Jordan had run afoul of NBA footwear rules, having broken them with his very first signature shoe in 1985. He was fined $5,000 for not following the Bulls' colorway policy with the AJ XI. After the fine, Nike made him a pair of the shoes in a black/white/concord colorway for the series against Orlando. A similar black/white/royal blue colorway was released to the public at the end of 2000. The colorway was changed for the public release because the concord purple had looked like royal blue on television.
Jordan wore the Air Jordan XI on the way to helping the Chicago Bulls claim the 1995–96 NBA Championship. He also wore the XI white Columbia colorway in the 1996 NBA All-Star Game and was selected MVP of the game. The shoes received more media exposure when Jordan wore the Air Jordan XI model in the 1996 animated movie Space Jam. These shoes were eventually released in 2000 and re-released in 2009 with the nickname "Space Jams." The concord purple was changed to royal blue for the released versions of the shoe.
The Air Jordan XI was originally released from 1995 to 1996. It was retro'd in 2000, 2001, 2003, 2006–2018 and 2019. The Air Jordan XI is the most popular Air Jordan in the series and has released almost ritualistically every December since 2008, selling out in minutes. It also is Hatfield's favorite. With the Air Jordan XI being the most popular Jordan, supply used to be very limited and would cause fans to line up outside of stores before releases.
Source:
https://en.wikipedia.org/wiki/Air_Jordan
https://www.sallyhouseoffashion.com/collections/sneakers/nike