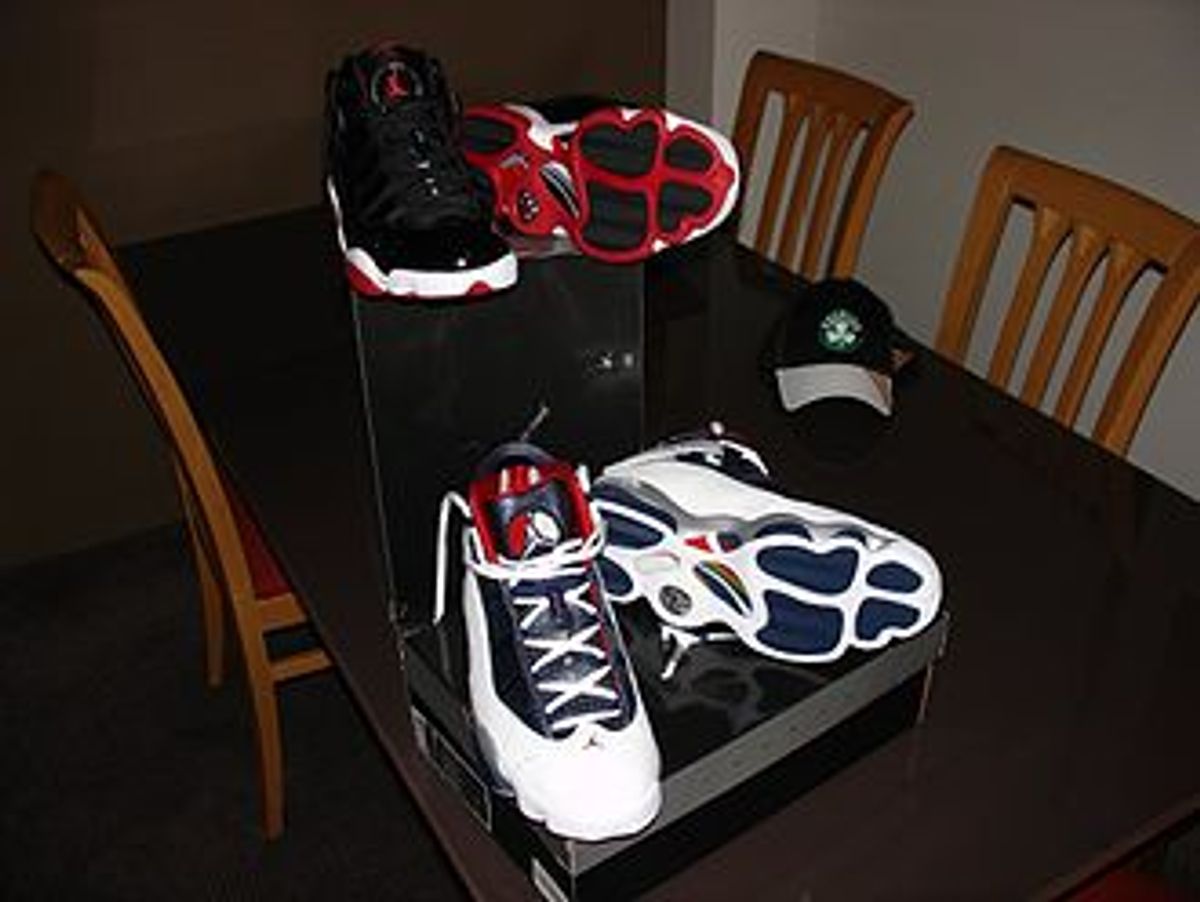 The Jordan 6 Rings (aka Jordan Six Rings) is a combination of the seven Air Jordan shoes that Michael Jordan wore during his 6 Championship seasons. That includes the Air Jordan 6, 7, 8, 11, 12, 13 and 14. The Jordan Brand company released the "6 Rings" shoes starting in September 2008.
The Jordan Brand released colorways representative of each team that the Chicago Bulls defeated in each of their six championship seasons during the 1990s. The colorways include colors borrowed from the following teams: the L.A. Lakers, Portland Trail Blazers, Phoenix Suns, the former Seattle SuperSonics, and Utah Jazz, each shoe of which includes laser-etched graphics detailing specific aspects about that particular championship series, the city of the competing team and so forth. Many other colorways exist and Jordan Brand continues to release additional colors that pay tribute to different Jordan and Nike shoes along with new colorways specific to 6 Rings shoes.
There even exists a "winterized 6 rings" which are a modified 6 Rings shoe turned into a durable boot designed for the outdoors which changes some of the design and placement of the inspired pieces and parts from the Air Jordans the shoe pays tribute.
Of particular note, there is an Olympic colorway, a Nelly version apparently inspired by the rap artist Nelly and a shoe that combines the colors of all the teams that the Bulls defeated in the NBA Finals, acting as the 'sixth shoe' since only five separate teams were defeated for the Bulls to win six championships; the Utah Jazz was defeated twice, in 1997 and 1998.
Air Jordan 6: Heel tab "spoiler", Jumpman on heel from retro 6 models, and lace locks
Air Jordan 7: Nike Huarache style inner sock and perforated air holes in the mudguard of the upper
Air Jordan 8: Chenille carpet-style sections on the tongue surrounding the Jumpman logo, dual velcro straps, the shape of the "23" printed on the lace locks and the colors on the midfoot arch plate on the sole
Air Jordan 11: Silhouette of upper, lace eyestays on certain models and patent leather mudguard
Air Jordan 12: TWO 3 embroidered on the tongue and metal lace loops at top of the ankle
Air Jordan 13: Midsole "pods" and panther paw-shaped outsole
Air Jordan 14: Small Jumpman logo embroidered at the top
Air Jordan 15: insole
Source:
https://en.wikipedia.org/wiki/Air_Jordan
https://www.sallyhouseoffashion.com/collections/sneakers/nike