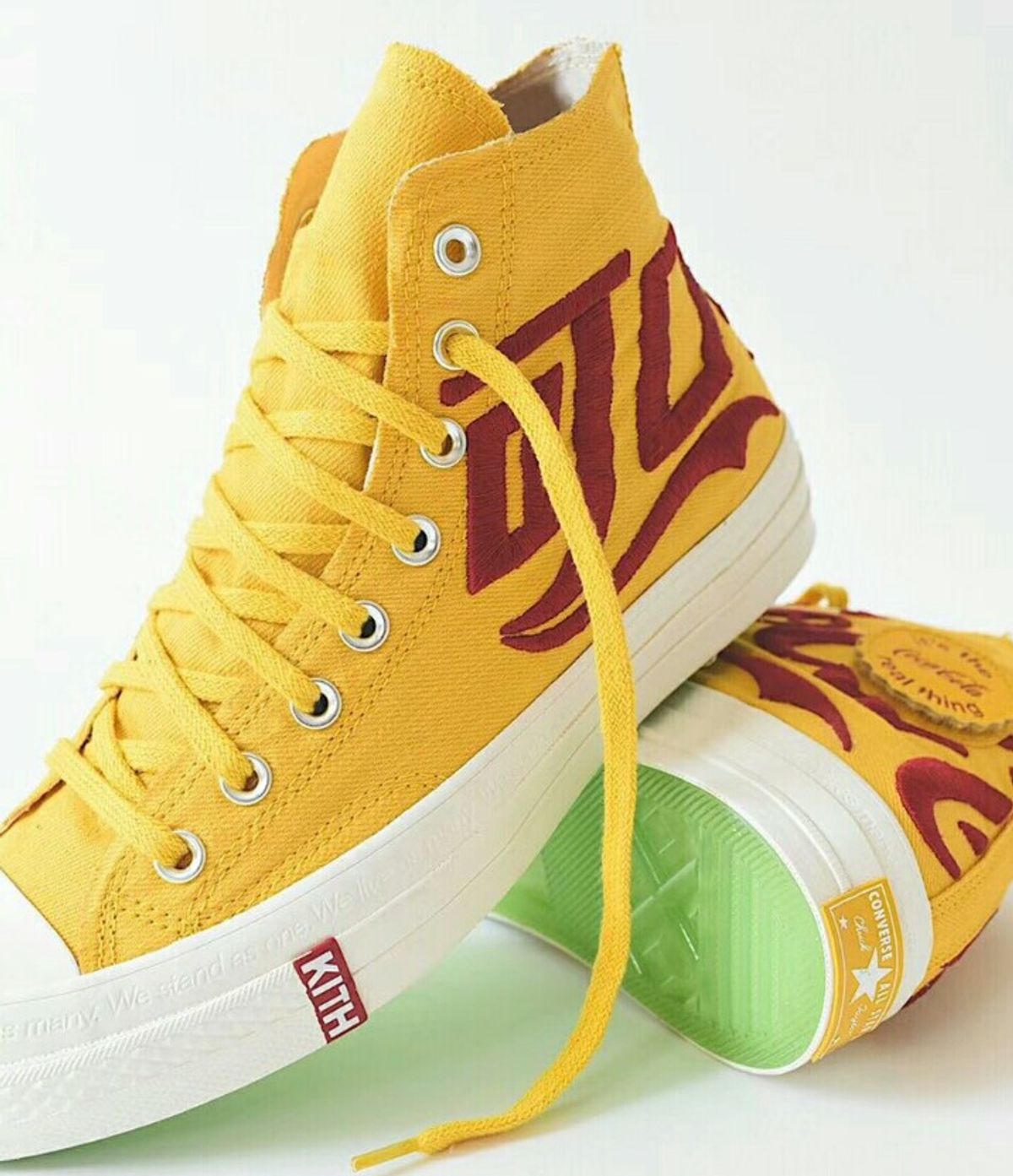 Every man has at least one pair of Converse trainers in their wardrobes – they are a staple that can be partnered with most outfits. Easily one of the most iconic footwear brands in the US, if not the world – let's take a look at the history of the Converse brand.
The History of Converse
1908 – 1920
Converse began in 1908 as a rubber shoe company specialising in galoshes (rubber based shoes). The company was called 'Converse Rubber Shoe Company', created by Marquis Mills. Soon after, they adapted and started to use their rubber to make sneakers, which we have all come to know and love. However, their first colourway was a natural brown Converse high top with a black sole, which today, wouldn't be a sell-out at all.
By 1910, Converse was well into daily production, however, it wasn't until 1915 that the athletic shoes we've come to know and love we're in production. The sales of the shoes were pretty slow as back then, trainers were not viewed as leisure wear. The canvas shoe style was picked up by mostly sports players, and it stuck like this for a while.
In 1920, they renamed their canvas Converse basketball shoes the "All-Star". The name stuck and was quickly followed by the endorsement of a basketball player by the name of Charles "Chuck" Taylor. This turned things around for Converse, taking them to a whole new playing field. Keep reading for a little more on how the relationship came about.
1920 – 2000
Although the Converse All Star was in production from 1917, they didn't get their iconic name until 1921. When basketball player, player for the Akron Firestones, Charles 'Chuck' Taylor entered their store complaining of sore feet, he was offered a job as salesman and ambassador for the brand. As they say, the rest was history.
It was in 1932 that, as a way of appreciated and recognition of his hard work, they printed Taylor's name on the ankle patch of the shoe, creating the Converse logo history. This created the Chuck Taylor shoe that took over the footwear industry forever. In 1936, the white hightop Chuck Taylor was designed for the Olympics and the signature red and blue stripes were introduced along the sole. This style was so popular that they stuck with the design, and never looked back.
Throughout the following years, they picked up copious amounts of sponsorship and licensing deals which only perpetuated the brands' popularity with sports stars and the general public alike. By 1957, Converse held a huge 80% of shares of the whole sneaker industry.
2000 – Present
It wasn't all so breezy, though. Their sneaker rivals, Nike, were hot on their heels for a long time (pardon the pun), and after the death of Chuck Taylor in 1968, the company was passed through different ownership and management. A series of unfortunate events landed Converse in critical times until, in 2001, they filed for bankruptcy. This is where Nike stepped in and bought the brand, picking it up and helping it recover to where they are today.
When Nike bought Converse, the brand climbed again, however, Converse's predilection of the basketball trainer didn't last. Over time, the brand began to develop multiple occasion footwear which was no longer exclusively designed to sink jump shots on the court. Eventually they became synonymous with street style and everyday life across the world. Did you know, a pair of game-worn Michael Jordan Converse were sold for $190,373 earlier this year? This just goes to show the extent of the growth and popularity of the shoe.
As long as you don't have the necessity to be suited and booted, Converse can be worn anywhere, anytime. They have now transcended beyond sports shoes to the new fashionable footwear in clubs. Converse now have unlimited potential to go with any and every outfit. If this has made you want a pair, then why not check out our selection of Converse shoes that we have in store right now?
Converse Collaborations
Because Converse are shoe giants, everybody wants to get a bit of them. Converse has always been open to brand collaborations which reach out to further customers and gives their loyal fans a chance to get their hands on limited editions of their classic silhouettes. Notable collaborations include the aforementioned Michael Jordan x Converse shoes, as well as cross-overs with bigger brands such as Comme Des Garçons. The Commes des Garcon Converse collaboration produced the black and white high and low top combinations with the half red heart on the side – a style which many, many fashionistas came on board with. The J.w Anderson x Converse collaboration is the next big one to go live, with Anderson putting his own touch on the Chuck Taylor high top silhouette.
Converse has also played a big part in the music industry. A notable work of Converse in music is The Ramones Converse shoes where the punk scene adopted the style, further taken on by their masses of fans. Musicians have also collaborated with the shoe brand to create limited-edition styles, such as the fun and graphic Gorillaz Converse in 2012.
The History of Converse
The Converse sneakers history began in 1908 as a rubber shoe company specialising in galoshes.
In 1920, they renamed their canvas basketball trainers the "All-Star". This is something which has stuck with them until the present day.
When basketball player Charles 'Chuck' Taylor entered their store complaining of sore feet, he was offered a job as salesman and ambassador for the brand. Make the link?
In 2001, Converse filed for bankruptcy, but Nike bought them and picked the company back up.
Over time, the brand developed to create multiple occasion footwear which was no longer made exclusively to sink jump shots on the court.
They became a lifestyle brand, created for every style, every day. A pair of Converse can be worn with any outfit, whether smart or casual.
Source:
https://theidleman.com/manual/arrivals/brands/history-of-converse/
https://www.sallyhouseoffashion.com/collections/sneakers/converse