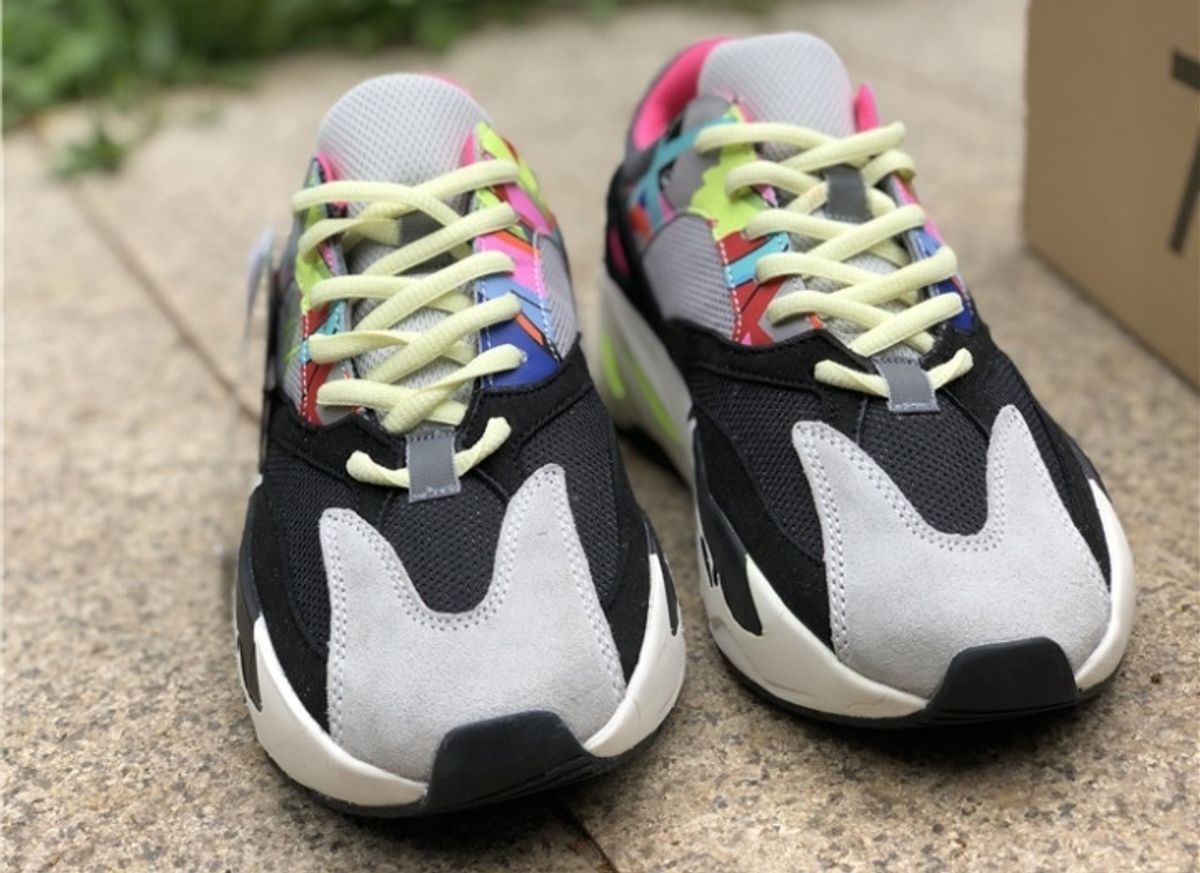 Yes, Yeezy proves that the niche world of sneakerheads can have mass appeal. But there's still plenty about sneaker culture that's confusing, insulated, and sometimes inexplicable. This extends to the very way sneaker obsessives talk about their obsessions. If it sometimes seems as if your sneaker-hoarding teenage nephew is speaking a different language—well, that's because he sort of is. These are the terms and ideas you need to know to make sense of the sneaker world. —A.G.
Bred. Any sneaker done up in the now iconic black and red colorway first made popular by the original Air Jordans released in 1985.
Brick. A sneaker of little appeal, often one with a certain amount of anticipation associated with its release. Alt: A missed opportunity, a letdown.
Cooked. Sneakers that have been thrashed, trashed, and otherwise thoroughly worn into the ground.
Deadstock. Sneakers that have never been worn. A coveted designation for older pairs.
Fire. A ubiquitous term of appreciation for especially cool sneakers.
Friends and Family. Sneakers that were gifted exclusively to a close circle of select parties, never seeing a wider commercial release.
GR. "General Release." Widely available sneakers intended for mass consumption.
Mid(s). Not a low-top, not a high top, but in-between. Alt: Shorthand indicating "middling" appeal.
OG's. Literally: "Original Gangster." The first version of a specific sneaker ever released.
On ice. Sneakers that have been kept unworn and in pristine condition while their owner waits for the right moment to bust them out.
Plug. A personal connect for hard-to-find sneakers.
Retro. A retrospective release of an older silhouette and/or colorway.
Sitting. Sneakers that are slow to sell, languishing on store shelves for months—even years.
Slept on. Sneakers deemed highly underrated, often overlooked by more hype-conscious customers.
W/L. An informal measure of the amount of success, or lack thereof, sneaker fans encounter throughout their attempts to procure especially rare releases. An ongoing tally of "wins and losses" truly dedicated enthusiasts keep track of, with no small amount of derision directed at the perceived obstacles in their way.
X Marks the (Collab) Spot
The letter "X" has special meaning in the world of sneakers. Not for any illicit reasons, or any Sesame Street ones, either. No, more like: Adidas x Kanye, Nike x Virgil Abloh, or even Nike x Kyrie Irving x SpongeBob Squarepants. That's because "X" denotes a collaboration—a meeting of A Brand x B Other Thing—and nothing juices up sneaker hype quite like a collab.
Collaborations—which are separate from standard endorsement deals—are deeply rooted in the sneaker industry. As far back as 1986, Adidas teamed up with Run DMC for a custom Superstar. Ever since, the practice has become the standard for any sneaker maker trying to build hype.
Now, the hype that comes with a collaborative sneaker is wielded strategically. Collaborative sneakers are never going to be what drives the biggest dollars for sneaker brands—leave that to the mall-bound Nike Monarchs and Adidas Superstars—but they are useful in creating a trickle-down effect, momentarily raising the heat to surface-of-the-sun levels for participating parties. Collaborative sneakers are designed to capture attention: they sell out in flashes, and fetch multiples of their original price on platforms like StockX and Goat. For brands, the thinking goes that customers who strike out on a collaborative shoe might settle for something similar that's always in stock.
Lately, collaborations, once just flings, have ossified into something more permanent. Now, Fear of God's Jerry Lorenzo is installed at the basketball wing of Adidas (where his former colleague Kanye West houses his Yeezy brand). Teddy Santis of Aimé Leon Dore is running the show for New Balance's Made in America division, while Pyer Moss founder Kerby Jean-Raymond is the global creative director at Reebok. Where collaborations were once additions designed to add a little funk, they are now helping to steer entire global businesses. —C.W.